Paxton sledding hill deemed too big
Thursday, February 21, 2013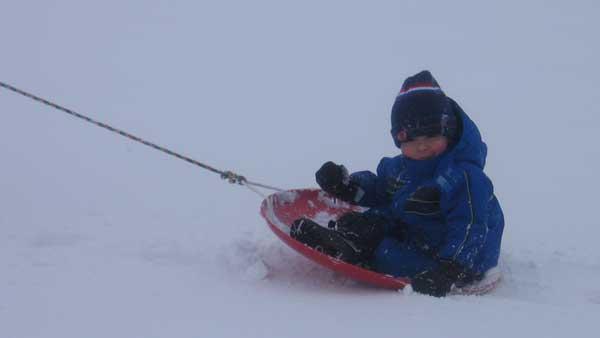 A young child is pulled on a sled near Montrose Harbor in Chicago. (WLS Photo)

February 21, 2013 ( PAXTON, Ill.) -- A small town in eastern Illinois is losing its sledding hill because the city says it's just too big of a liability.
Kay McCabe is a member of the Park District board in Paxton. She tells The (Champaign) News-Gazette that the district's insurance company warned that costs would sharply rise if anyone had an accident on the hill in Coady Park.
Paxton is about 30 miles north of Champaign and sits in one of the flattest areas in Illinois. Places to ride a sled downhill in that part of the state are almost all manmade.
Park District Director Neal McKenry says he believes people will miss the hill but he hopes they get over the disappointment.
Workers have already started removing trees and other vegetation from the hill.
(Copyright ©2013 by The Associated Press. All Rights Reserved.)
#########################
This article was in the Peoria Journal Star yesterday. I sat right up and took notice because Paxton is the little town where my children were born. Jim and I owned our own home there (with a garage
) until I sold it in 2010 and moved here to be close to my daughter.
I remember when the land was donated to the Paxton Park District by Ms Coady, thus the name of the park. I remember at the time that a good portion of the citizens of Paxton did not like the idea at all because of the raise on our taxes. And now it is coming down. And that is as the world turns.
I hope you are all having a peaceful weekend. Stay safe and be happy!!
Beth